We have been partnering with individuals with disabilities looking to enrich their lives since 1969
---
Since 1969 our mission has been to use a person-centered approach to create a meaningful relationship with everyone who seeks services at our organization. Once we get to know each individual, our compassionate and dedicated team helps develop a carved plan to assist in achieving their employment, personal, and community goals.
The Sunrise Enterprises team provides employment and community inclusion opportunities to those with disabilities in Douglas County because we see the person before the disability. We believe that a community that strives to accept, include, and appreciate the unique abilities of individuals with and without disabilities is a community to be proud of.
Administrative Offices
Sunrise Enterprises
423 NE Winchester St.
Roseburg, OR 97470
Chief Executive Officer: Jim Wilson Ext. 153
Chief Financial Officer: Jane Maritz Ext. 121
Director of Operations: Savannah Jones Ext. 143

---
Department Contacts
Employment Services: Tomi Bond Ext. 138
Retail Stores: Carla Barnett Ext. 122
Janitorial: Kaysee Smith Ext. 155
Landscape: Savannah Jones Ext. 143
Wood Products: Steve Perry Ext. 149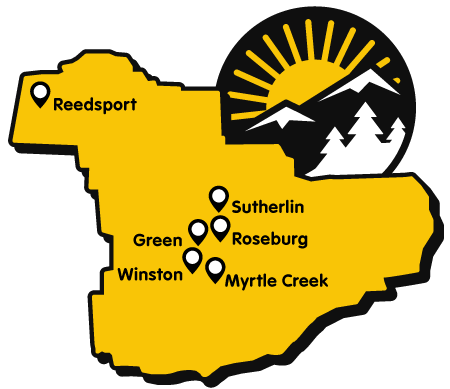 Careers with Sunrise
As an organization that promotes the employment of those with all abilities, we celebrate differences and believe that all individuals have potential. Sunrise has created an inclusive and diverse environment to work, learn, and grow.
Our team invites you to apply today and start changing your life and the lives of those with disabilities in Douglas County!