We've Been Helping People With Disabilities To Succeed Since 1969.
---
At Sunrise Enterprises, we are about more than retail stores, job services, and training programs. We're dedicated to our local community and focused on the success of people with disabilities in Douglas County, Oregon. It's been our mission since 1969.
Administrative Offices
Sunrise Enterprises
423 NE Winchester St.
Roseburg, OR 97470
---
Department Contacts
Employment Services: Tami Seaton
Day Support Activities: Linda Jensen
CPR Training: Eric Schmidt
Shop & Save Stores: James Rice
Landscape/Janitorial: James Rice
Projects Manager: James Rice
Wood Products: Steve Perry
Executive Assistant: Savannah Jones
Operations Manager:
CEO: Shane Kalar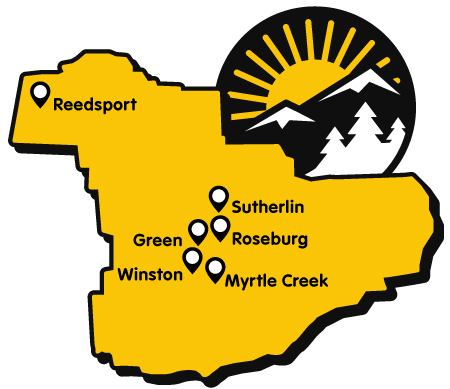 Green Plant
Wood Products Division
3443 Carnes Road
Roseburg, OR 97471
Myrtle Creek Shop & Save
875 S Main Street
Myrtle Creek, OR 97457
(541) 863-4330
Reedsport Shop & Save
1401 Hwy 101 S
Reedsport, OR 97467
(541) 271-0553
Roseburg Shop & Save
2331 NE Stephens Street
Roseburg, OR 97470
(541) 672-0106
Sutherlin Shop & Save
1016 W Central Avenue
Sutherlin, OR 97479
(541) 459-4020
Umpqua Liquidation
885 S. Main Street
Myrtle Creek, OR 97457
(541) 202-0101
Winston Shop & Save
126 W Douglas Blvd
Winston, OR 97496
(541) 679-4161
Job Openings
We are a company of passionate individuals. It's our job to create opportunities for people with disabilities to succeed and we get motivation from those good experiences.
We have some great positions for some exceptional people. Join our team by browsing our job openings.
View Our Current Job Openings
---