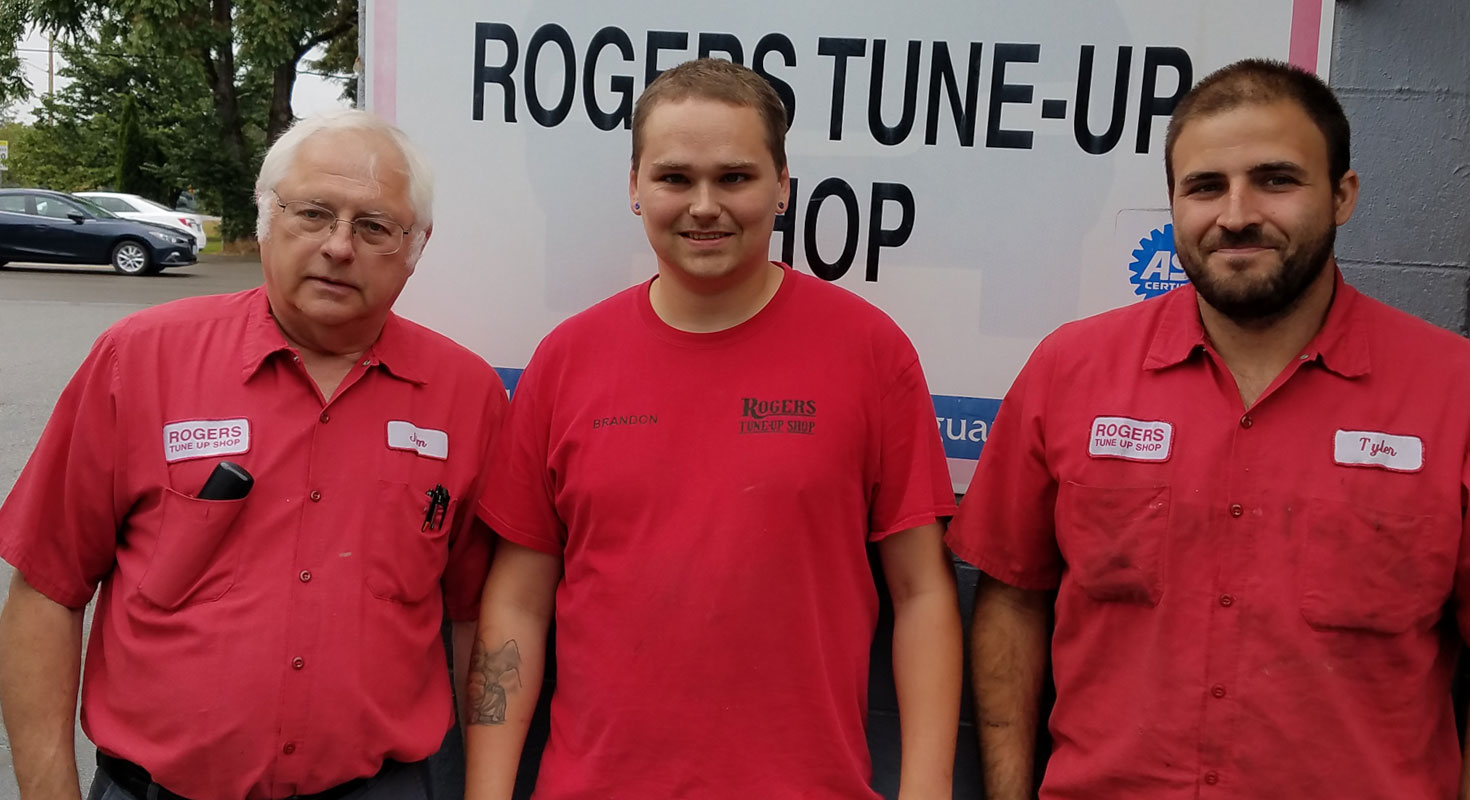 Brandon
Brandon Rocks Rogers Tune-Up
Brandon Buehner has long had mechanical ability. When grandma needed her oil changed, Brandon watched YouTube videos and learned how to do it. When grandma needed a trailer to pull behind her vehicle to take garbage to the dump, Brandon built one. When grandma needed bookshelves to hold books and knick-knacks, Brandon put one together.
Brandon likes helping his grandmother Cindy Buehner, neighbors and people in general.
Jim Rogers, the owner of Rogers Tune Up, decided to give Brandon an opportunity in August, 2016. It started as on the job training. "Brandon has a positive attitude. When he's not here he is certainly missed." He added that, "Brandon has learned a lot since coming here. Originally, he was hired to do ignition interlock installations. He programs the unit, does the monthly maintenance on them, communicates with the tech support and instructs the customers on how the devices work. He also does minor repairs, such as water pumps, oil changes, changing plugs and wires and other tasks. To remember the details and to stay focused, we make lists. He learns quickly and we're most interested in him learning as much as he wants to."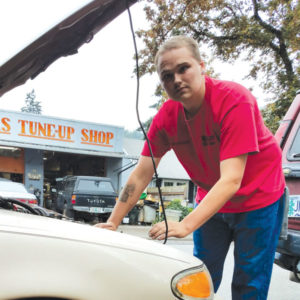 Tyler, the other mechanic at the shop said, "He does a good job. He has learned a lot. He used to ask me for help, now with the breathalyzers (ignition interlock devices), he knows more about them than I do.
Jim has encouraged Brandon to increase his skills and knowledge. He has even offered to stay after hours to go over ASE materials online. Brandon's support team has also taken up the challenge. Eric Schmidt, a job coach with Sunrise Enterprises, works with him one hour twice a week helping him study for his ASE certification.
Eric has brought in a radio controlled (RC) car to demonstrate steering and suspension systems, giving Brandon some hands on experience. Reading and comprehension is difficult for Brandon. Hands on learning and learning by video with a person to help with comprehension create success.
Brandon also demands excellence from himself, not willing to accept four correct answers out of five on a pre-test, "Let's do it again," he tells Eric. In these training sessions, "Brandon is on-time with a great attitude," Eric reports. "The only times he's not here is when he's sick or has extra projects at work."
Brandon loves his job! "I love working with my hands," Brandon said. "I don't like it much when it's slow, though. I stay busy cleaning. I like working with Jim and Tyler. They are both very helpful and I learn a lot from them.
Brandon's employment team includes: Kaitlyn McMahan, Personal Agent at Southern Oregon Regional Brokerage; and job coach Eric Schmidt at Sunrise Enterprises.